10 Best Website Ranking Tools Of Twenty*1
Each business has its own SEO strategies. The strategy that works best is dependent on the tools used to rank website. SEO strategies are developed to create a large number of backlinks which assist you in getting the top position in search engines. How do you determine which method is performing the most effectively? It is essential to employ only one kind of backlink strategy for one month. You must ensure that your efforts for SEO are working effectively for your site.
Analyze the rank and track the performance of your strategy each month. Monitoring your rank is part of the process of SEO. If you're putting in efforts to improve your SEO but you aren't planning to monitor your rankings then trust me, you are just wasting your time. Monitor your rankings to determine if your strategies are effective or not. Keep in mind the strategies that you have applied, if they don't work you can always apply different one.
Table of Contents
Best Website Ranking Tools
Other questions that can arise while looking for these tools would be:
How to rank a website in Google and other search engines?
How can I get my website ranked higher on the first page of google.com, yahoo.com, or any other major search engine?
What are some good tools that will help me to rank my website?
There is no magic bullet for getting your web pages indexed by Google. There's lots of information out there about how to optimize your content so it ranks well with people searching for keywords related to what you're selling. But if you want to know more than just "how" then read up on SEO – Search Engine Optimization.
Best Website Ranking Tools
The best website ranking tools of 2021 which will help you to create different strategies on how to rank your website in Google.
1. SEMrush
SEMrush is a well-known research tool. It is loaded with options to choose from. It comes with an option to track your position that allows you to track your site's keywords and your website. You can determine your position in the market by comparing the ranking of your competitors with your own. It's an effective tool that can access all sorts of analysis reports for organic and paid search, ads, backlinks and social media analysis.
2. Rank Watch
RankWatch provides a vast amount of information about 177 search engines in order to keep track of your precise rank. The tracker will show your current rank, along with the top rank and the initial rank. It also gives suggestions for efficient and possible new keywords to focus on. Additionally, you can design an alert for yourself to be informed automatically of particular changes to your ranking.
3. SEOlium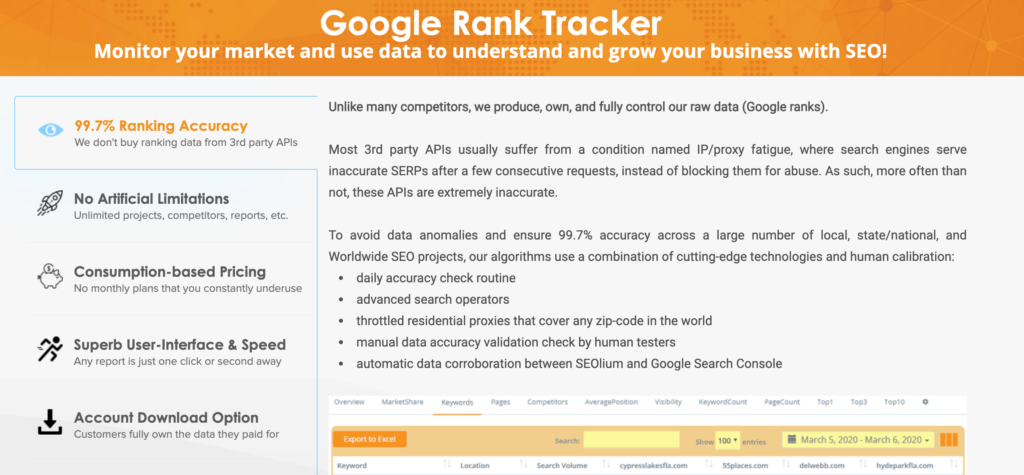 SEOlium provides Google ranking information which is completely managed by them, which is different from the other competitors. It guarantees that its APIs don't suffer from exhaustion of the proxy or IP even after many repeated requests. SEOlium guarantees to prevent data irregularities and claims to offer 99.7 percent exact information in SEO projects of any size. Its algorithms employ the best balance of modern technology and human-based calibrations to get ranking data by confirmation using Google Search Console.
4. Moz
Moz has a vast array of tools, including Moz Analytics on-page Grader Keyword Difficulty as well as Crawl Test instruments. Moz has a rank tracking tool that lets you track certain keywords in Google, Bing, and Yahoo in real-time, and provides customized emails to notify you. Moz can also help you determine the ranking of your competition.
5. SEOprofiler
SEOprofiler is a full-featured and very useful suite of web-based SEO tools that include keyword rank tracking as well as page auditing, competitive intelligence tools, and backlink tools. It has a keyword rank tracking tool that keeps tabs on your website's rankings on Google, Bing, and Yahoo. You can enter the keywords you want to track, and it also offers and suggest the new effective keywords you can use.
6. AccuRanker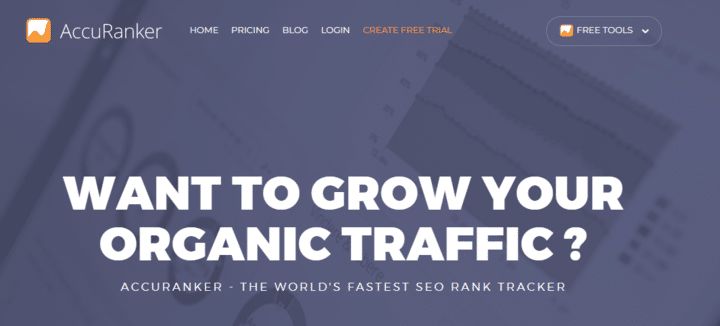 Accuranker is very simple and one of the most effective tool to track your ranking on Google and Bing. It is an affordable solution you can use anytime on a less budget with accurate results. You can track your rankings, as well as your competitor's ranking with the same keyword. Rankings are automatically updated daily, but you can refresh your ranking whenever you want.
7. RankTrackr
RankTrackr offers you to track local Google rankings for local packs, map results, organic results on Google, Bing, Yahoo!, and even YouTube. RankTrackr provides you with the option to receive daily, weekly, or monthly reports through email, filter your keywords and check your rankings. You can also check your competitor's ranking to find the right position in the search engine market.
8. Check Plagiarism – SEO Tool
Check Plagiarism is Powerful and Easy SEO Tool to check duplicate content. It's a very easy tool just paste your text paragraph and click on check plagiarism. Its made in JS and doesn't need to create any database. This will be considered in Website ranking Tools.
Features
Bootstrap 3.0
Created in JS – Without Database
Easy to Installation and integration
Modern Browsers Compatible
Detailed Documentation
9. AtoZ SEO Tools
A to Z SEO Tools v2 is a Search Engine Optimization Tools. We have more than 50 SEO Tools to keep track of your SEO issues and help to improve the visibility of a website in search engines. It also helps to optimize web content by analyzing content for keywords, on-site links, and other SEO considerations.
10. XeroSEO – The Most Complete Visitor Analytics & SEO Tools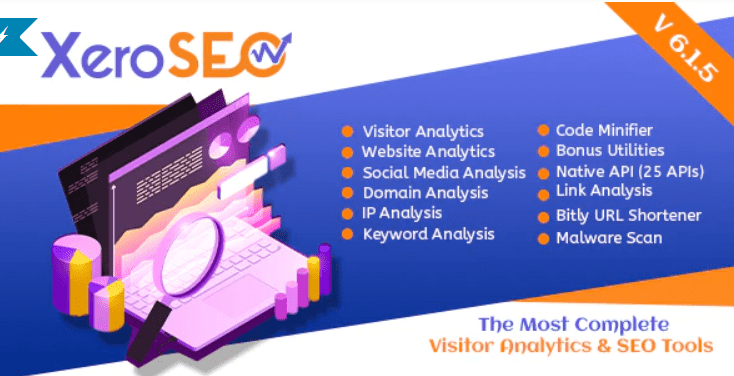 The Most Complete Visitor Analytics & SEO package including visitor analytics (unique visitor, page view, bounce rate, average stay time, average visit, traffic analysis, top referrer, new & returning visitor, content overview, country & browser report, os & device report, etc.), web analytics (Alexa data, whois data, social media data, Moz check, search engine index, google page rank, IP analysis, malware check ), SEO tools (link analysis, keyword position analysis, auto keyword suggestion, page status check, etc.)
Final thoughts on website ranking tools
Last words to suggest to you that if your SEO strategy is not working with the positive results. You can try with the other to build backlinks. But, it is essential to get your ranking being tracked. You can get various backlinks in many ways to keep trying. You will find the best solution for the ranking.
#Digitalfutur #thedigitalfutur #rehman #kabir #vitan #marketing #seo marketing #websiteranking #backlinks